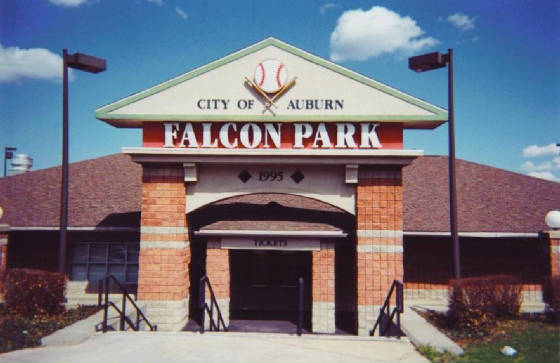 TEAM ::: AUBURN DOUBLEDAYS
LOCATION ::: AUBURN, NEW YORK
MY FIRST GAME HERE ::: JUNE 27,1998
OPPONENT ::: ONEONTA YANKEES
LEVEL ::: NEW YORK - PENN LEAGUE A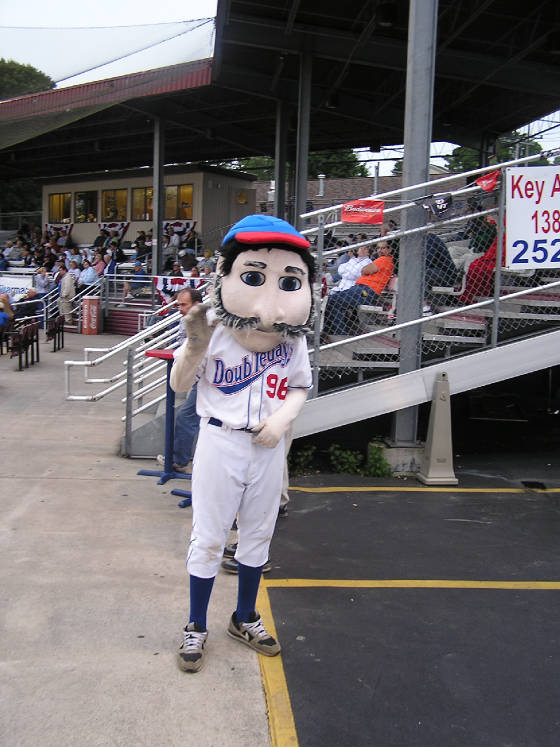 RATINGS
BALLFIELD ::: C+
SCOREBOARD ::: C-
FOOD ::: C
FACILITIES ::: B
MASCOT ::: A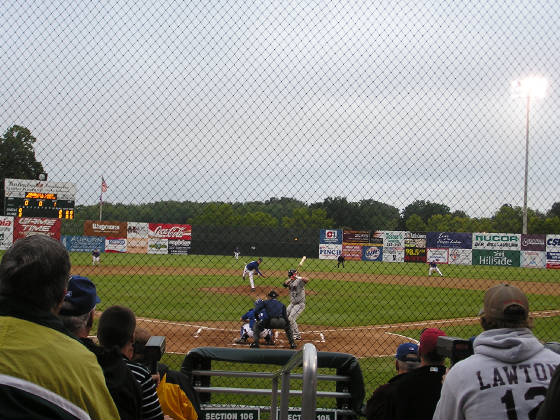 MY TAKE ON THE PARK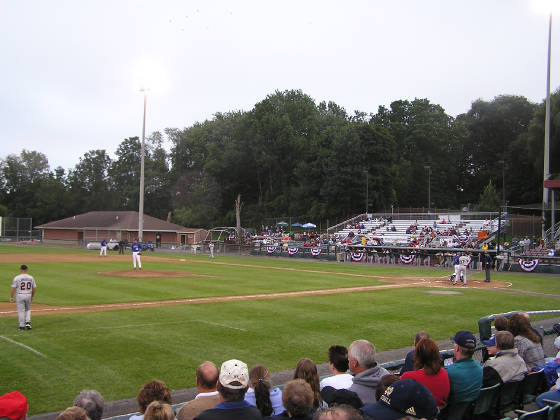 FOR A TRIP "BACK IN TIME", HEAD ON UP TO AUBURN, NEW YORK TO A PLACE THAT HAS BEEN HOSTING NEW YORK - PENN LEAGUE BASEBALL FOR ALMOST 50 YEARS.

LOCATED ON WHAT APPEARS TO BE A VERY RESIDENTIAL STREET IN AUBURN, NY FALCON PARK WELCOMES DOUBLEDAY FANS FROM JUNE - SEPTEMBER, IN A PARK THAT HAS BEEN AROUND FOR A WHILE BUT WAS RENOVATED A LITTLE OVER 10 YEARS AGO.

IN SOME PLACES A RENOVATION MEANS A NEW BALLPARKS WITH LOTS OF LOUD MUSIC AND TEAM EMPLOYEES DANCING ON THE DUGOUTS. HERE IN AUBURN, THEY
JUST FIXED WHAT NEEDED FIXING AND HAVE MADE THIS PARK A TRIP BACK IN TIME.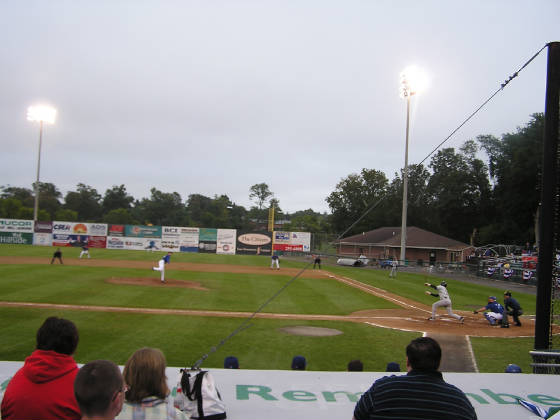 A VERY GOOD LOOKING ENTRANCE AWAITS ACROSS THE STREET FROM A FREE PARKING LOT.
ONCE ENTERING THE PARK, THE BUILDING FOR THE TICKET WINDOW
HOUSES THE TEAM'S OFFICES AS WELL AS CONCESSIONS FOR THE PARK AND REST ROOMS.

NO FRILLS SEATING STRETCH FROM 1ST TO 3RD BASE UNDER A COVERED
GRANDSTAND WITH 2 ROWS OF SEATS BEHIND THE DUGOUTS.

AUBURN IS A SMALL TOWN LOCATED IN THE FINGER LAKES REGION OF NEW YORK.
THE CITY OF SYRACUSE IS ABOUT 45 MINUTES AWAY MAKING A TRIP TO SEE THE CHIEFS AND THE DOUBLEDAYS ON THE SAME DAY A POSSIBILITY.

WHAT AUBURN HAS DONE IS WHAT WAS ALSO DONE IN BATAVIA, MAKE THE GAME A LITTLE MORE COMFORTABLE FOR THE FANS AND LET THE GAME PLAY ON.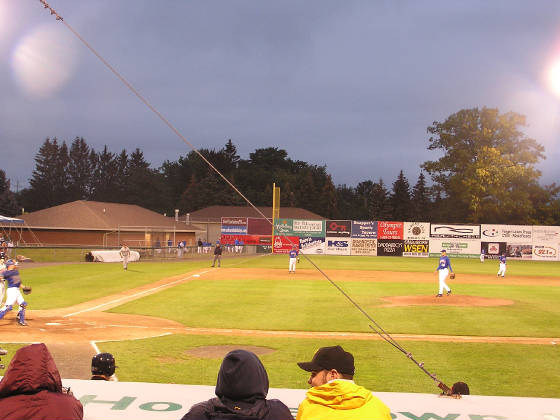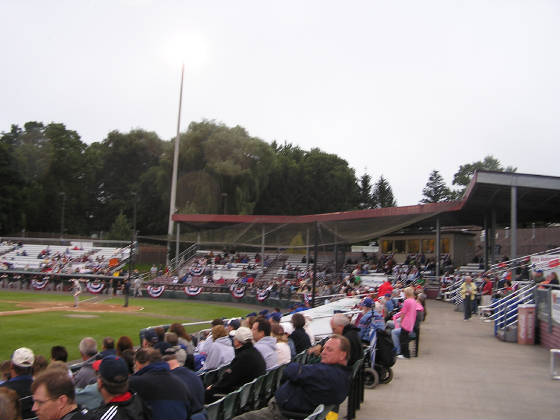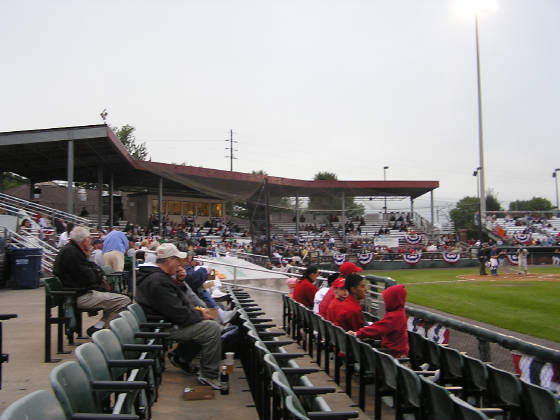 THE LINE UPS

YANKEES MANAGER :::
JOE ARNOLD

DOUBLEDAYS MANAGER :::
1 LYLE YATES

ONEONTA YANKEES

38 John Darjean cf
47 Mark Carek ss
18 Tuaris Olivaee 2b
63 Michael Vento rf
53 Andre Castri 3b
56 Allen Green lf
62 Michael Hernandez c
40 Neil Gregg 1b
69 Dion Washington dh
49 Geraldo Padua p / WP
35 Stan Wood S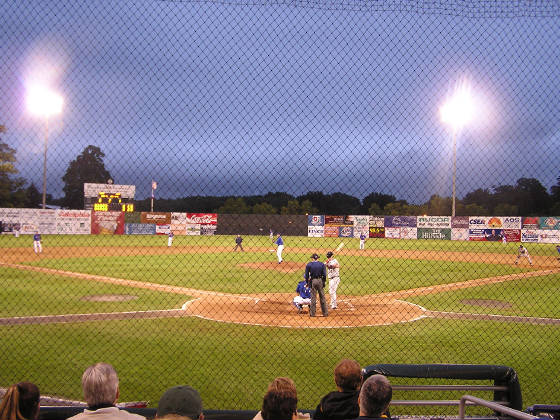 AUBURN DOUBLEDAYS

14 David Matranga ss
23 Colin Porter dh
30 Morgan Ensberg 3b
25 Brandon Byni 1b
11 Derek Nicholson rf
28 Jeremy Deshazer lf
4 Chris Yates cf
20 Brandon Buckley c
7 Keith Ginter 2b
16 Darwin Peguero p / LP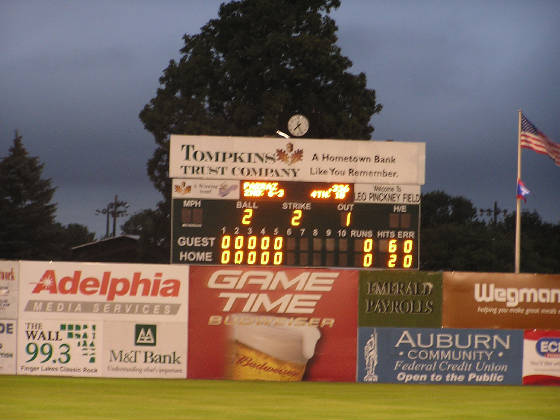 ONEONTA YANKEES 100 211 004 9 13 1
AUBURN DBLEDAYS 000 002 000 2 9 1

TIME ::: 2:54
ATTENDANCE ::: 1,858
WEATHER::: 78, CLOUDY, MUGGY

SEND ME AN E-MAIL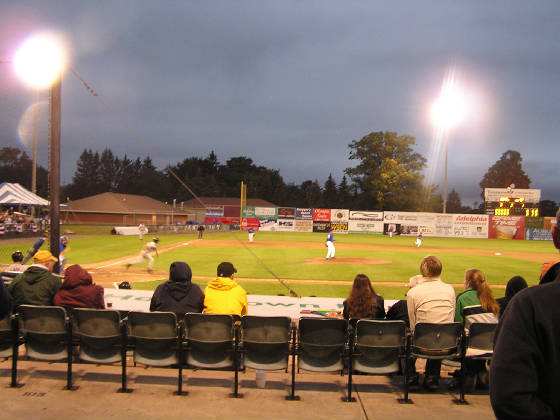 LINKS
The Official web site of the Auburn Doubledays
My Dwyer Stadium, Batavia site
Auburn weather from WEATHER.com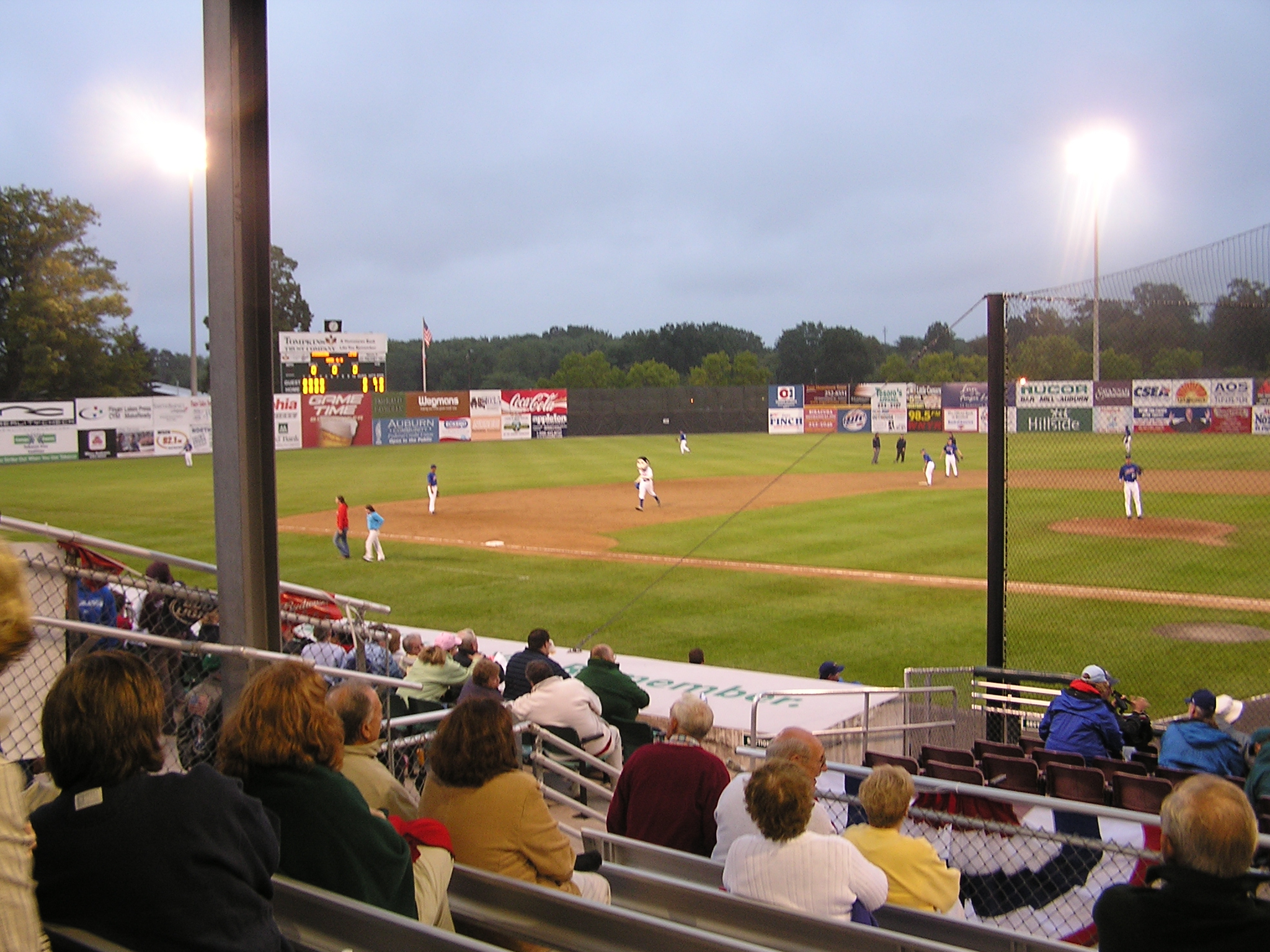 © 2000-2012 UNCLE BOBS BALLPARKS
I AM IN NO WAY AFFILIATED WITH ANY OF THE TEAMS ON THIS PAGE .. THIS PAGE IS MEANT FOR INFORMATION PURPOSES ONLY.